Peru as a coffee origin country
1. Introduction
The 5th largest producer of Arabica in the world, this South American country is the biggest exporter of organic coffee with over 90 thousand certified organic hectares. Farms sit mainly on the Eastern slopes of the Andes on altitudes between 800 m and 2000 m above sea level. Peru is divided into 3 distinct regions: Costa (Coast), Sierra (Mountains) and Selva (Jungle). The coffee belt is referred to as Yunga or Selva Alta (High Jungle).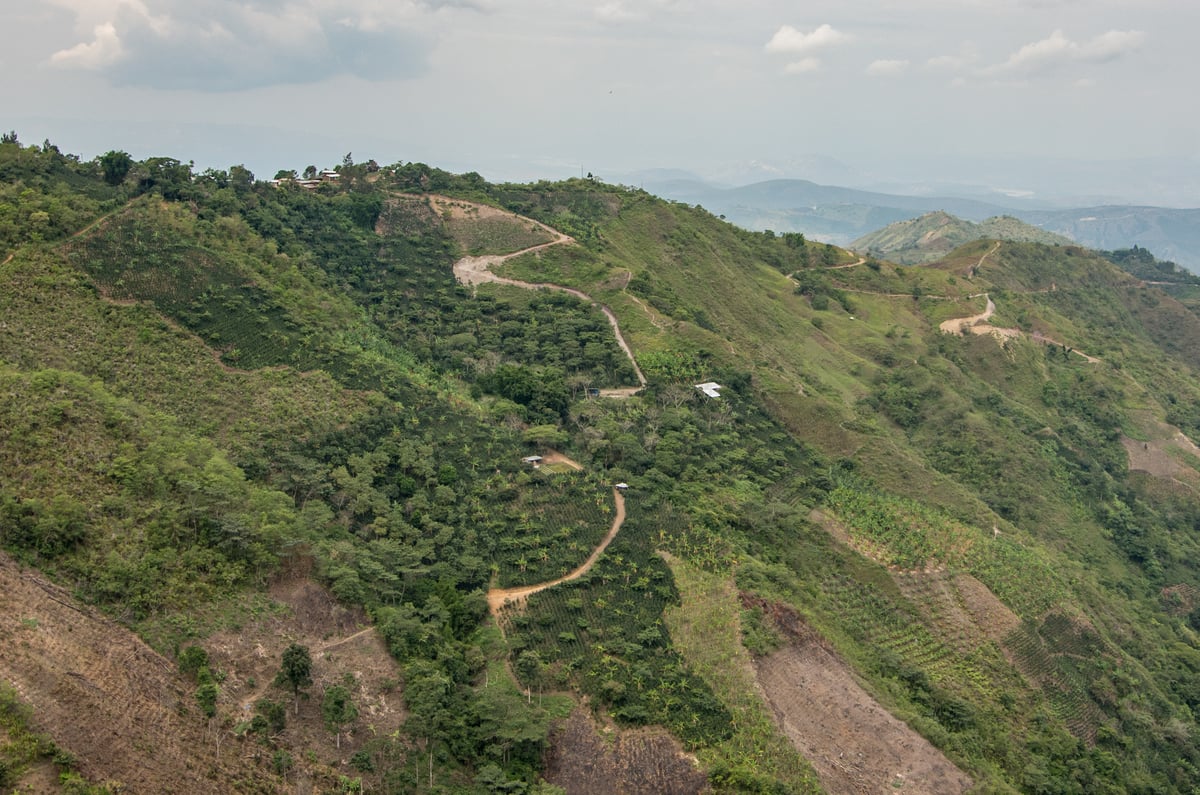 Coffee arrived in Peru from Ecuador in the 1740s according to some accounts. It was only in the 1850s that production took off in the High Jungle region, alongside that of cacao and coca. The first cooperatives were created in the 1960s to fight low prices paid by intermediaries. They expanded throughout the 60s and 70s but faced a decline in exports in the 80s and suffered from violent internal conflicts in the 90s. Cultivation of organic coffees started in the 90s with coops such as La Prosperidad de Chirinos and CLAC La Florida and helped rebuild the sector.
Coffee is one of the country's main agricultural exports, involving 223.902 families and creating 855 thousand jobs. Despite being well-known for the strength of its cooperatives, it is estimated that only 20-30% of the producers are organized in 81 associations or coops, with the remaining farmers selling parchment to private companies and exporters. The steep hillsides and tree coverage of the jungle area require handpicking, soaring the labour costs of the production and often offset by familiar labour.
Grower guilds such as the Junta Nacional de Café (JNC) and the Cámara Peruana del Café y Cacao (CPC) express continuous concerns over the price crisis. According to them, prices paid in the internal market are below the cost of production, a trend observed since 2002. Prices paid for a day of picking are also one third to half of the rates paid for picking coca leaves. The latest USDA annual report informs that farmers were paid an average of USD 1.53/kg while production costs were around USD 2.2/kg.
As a result of the price crisis, producers have started to abandon their fields, which is already impacting national production volumes. To avoid the decline of the sector, the government has launched the Plan Nacional de Acción del Café (National Action Plan for Coffee) in 2018. The initiative aims to generate more credit lines for smallholders and to encourage Peru's internal consumption of coffee, one of the smallest in the world.
Due to the commitment to their role in the supply chain, paying fairer prices for farmers (mainly through Fairtrade premiums) and encouraging social and environmental practices, only independent farms, cooperatives and associations are verified Algrano partners, being able to offer coffees on the platform. Our Peruvian growers' community nearly doubled this year, from 9 groups in 2019 to 15 verified partners from 4 regions in 2020.
"COVID made the season a lot more complicated for us. As labour can't come in from other cities, the families have to take care of it all. We also have to go to each farm to collect the coffees, making them more expensive than normal. But it's great to see how the producers are coming together in the villages and helping each other. Our goal is to pay them as well as they deserve so they continue to be happy with our work."
Alexander Guerrero Rivera General Manager, Amazonas Coffee Friends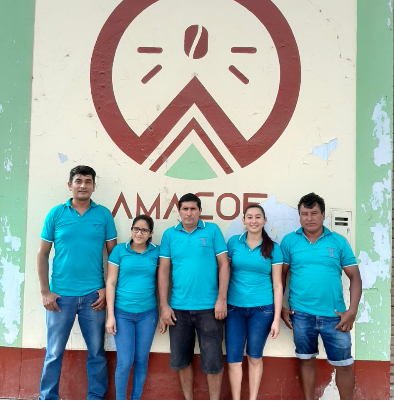 2. General stats
Regions: Coffee is grown in 450 districts within 95 provinces part of 16 of the country's 25 regions. The 6 main producing regions are Junín, San Martín, Cajamarca, Cusco, Amazonas y Huánuco. Together, they account for 91% of all Peruvian farmers
Biggest producing regions: Cajamarca, Amazonas and San Martín (50% of the country's total)
Farm size: 85% of the producers have between 1 and 5 hectares. Average: 3 has, 14.5% with up to 100 has and 0.5% with up to 300 has
Cooperatives: Up to 30% are members of cooperatives and associations
Altitude range: 800 m to 2100 m
Varieties: Peru grows Arabica and the main varieties are Catimor and Typica, followed by Caturra, Pache and Bourbon. Since the leaf rust outbreak in 2012, farmers have been replacing Typica for Catimor. The latter variety has more resistant and better yields, however, it is known for lower cup quality

Processing methods: Mainly washed
Harvest: April to September. 85% of the coffee is harvested between April and July
Bag size: 69kg
Ports: Lima and Paita
Average farm density: 2 thousand plants per hectare
Yield: The average yield is low with only 13 qq/ha (quintales per hectare). However, more developed zones like Jaén, Bagua, San Ignacio and Villa Rica can reach up to 80 qq/ha*
*1 quintal = 56 kg of parchment
Estimated minimum farm size for profitability: 3,3 has
Highest cost for farmers: Labour, accounting for 45-55% of the total
Buyer markets: United States (25%), Germany (22%) and Belgium (9%)
3. Regions
I. Amazonas
In the extreme North of Peru, bordering Ecuador, Amazonas is one of the largest coffee-producing regions of the country. It is divided into mountains and jungle, where plantations are found in elevations starting at 900 m and as high as 2100 m. Amazonas is characterized by dense cloud forests (it has the second-largest portion of the Amazon rainforest) with its tropical weather and the rugged Andes mountains to the West.
Production: 34.966 MT
Varieties: Caturra, Typica and Catimor
Average temperature: 20.6°C
Annual rainfall: 1801 mm
Peak harvest: March-August
Cup profile: Full-bodied and sweet with medium to high acidity and notes of chocolate, floral tones, stone fruits like apple and peach and hints of nuts and spices
Verified partners: AMACOF
II. Cajamarca
Also in the North of Peru and to the West of Amazonas, Cajamarca is the third-largest coffee-producing region and one of the most densely populated areas in the country. Jaén and San Ignacio are the main provinces and coffee is cultivated from 900 m to 1950 m. Cajamarca is famous for the quality of the coffees with many featuring among the winning lots of the national Cup of Excellence, especially from districts like La Coipa and Las Mercedes. We work with many coops in Cajamarca, who have been collaborating with each other to facilitate the transport of workers and coffee during the pandemic.
Production: 48.182 MT
Varieties: Caturra, Typica and Bourbon
Peak harvest: April-August
Average temperature: 18.8°C
Annual rainfall: 1457 mm
Cup: Elegant body and acidity with expressive florals (jasmine), honey and caramel sweetness, hints of herbs and notes of fruits ranging from citrus to tropical fruit (pineapple), stone (peach) and berries (blackberries)
Verified partners: El Diamante, La Prosperidad De Chirinos, Coopagro, Aprocassi
III. Junín
Located in the Central Jungle area, Junín is the biggest coffee-producing region, growing coffee mainly in the provinces of Chanchamayo and Satipo on altitudes of 900 m to 1800 m. The climate is temperate in the mountains and tropical in the valleys, a variation that increases biodiversity.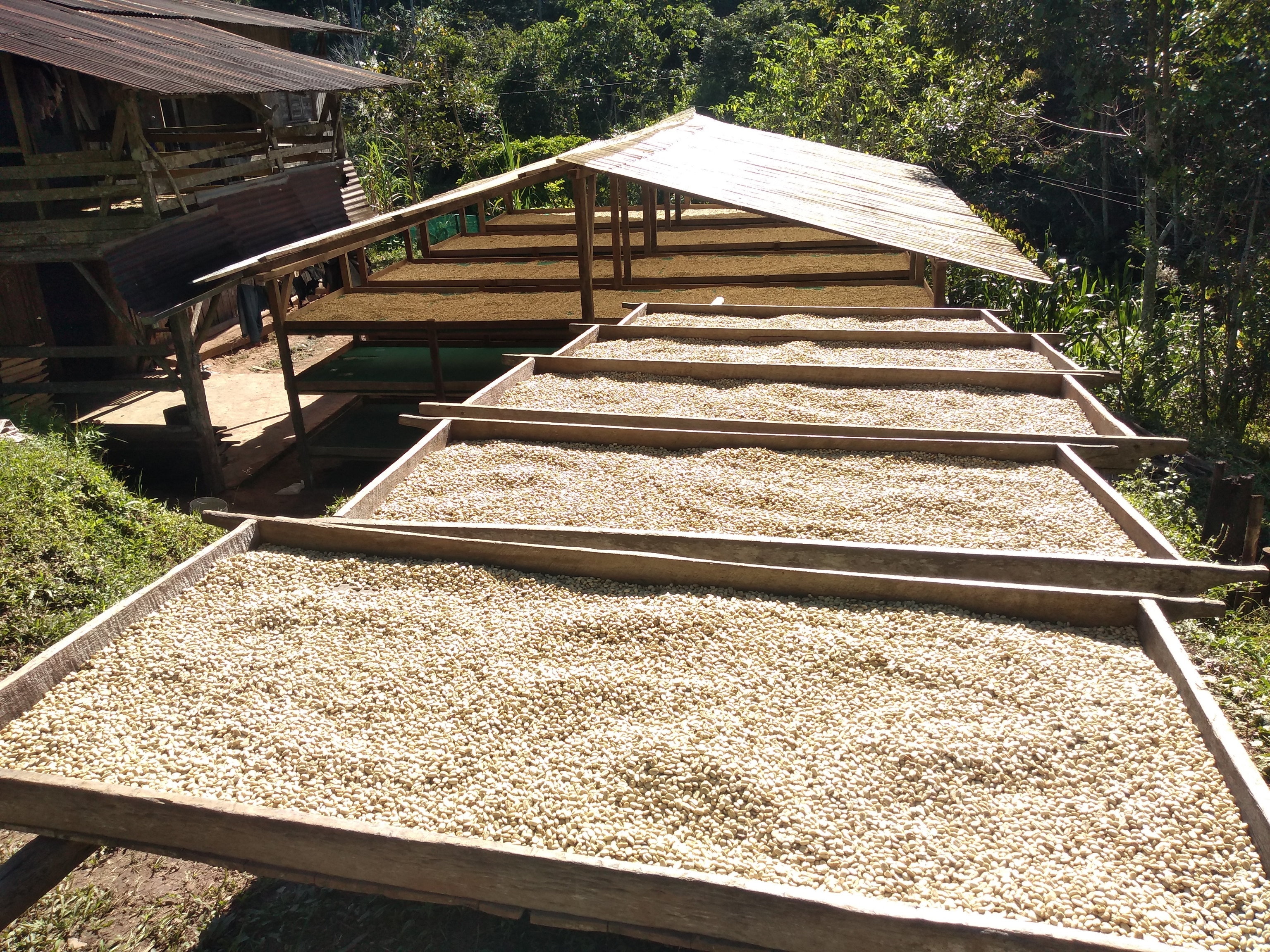 Production: 79.898 MT
Varieties: Caturra, Typica and Catimor
Peak harvest: March-August
Average temperature: 25°C
Annual rainfall: 1791 mm
Cup: Elegant body and mild acidity with bolder fruitiness ranging from dried fruits to citrus, stone fruit and tropical fruits, caramel and molasses sweetness, notes of chocolate and nuts
Verified partners: CLAC La Florida and Pichanaki
IV. Pasco
On the South of Junín is Pasco, a smaller region where coffee is grown mainly in the province of Oxapampa at elevations of up to 2000 m. The temperate climate and high altitude contribute to the complexity of the coffees. Pasco is the home of the Oxapampa-Ashaninka-Yanesha Biosphere Reserve, the last undisturbed ecosystems in the central jungle of the country and where you can find large predators like jaguars and the harpy eagle.
Production: 10.794 MT
Varieties: Caturra, Typica and Catimor
Peak harvest: April-August
Average temperature: 18.3°C
Annual rainfall: 1457 mm
Cup: Sweet and fruity, with notes of dark chocolate, stone fruits, berries, nuts and molasses sweetness. Medium body and acidity
Verified partners: CLAC La Florida
Despite the pandemic and labour shortages, the land of Catimor and Typica was favoured this year with stable weather throughout the flowering and maturing seasons. As the first lots become available we can confirm that the coffees are coming out nicely and that the overall cup quality is expected to be as good as any other year.